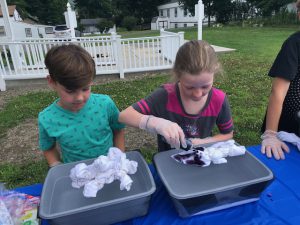 Week five of the Summer Learning Program "A Universe of Stories" is ending. There was great fun had by all ages. We ended with a tie-dye party. Many shirts have been dyed. All ages attended bringing their own shirts. Thank you to all who volunteered to help out.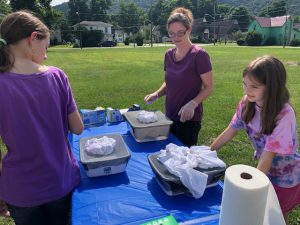 Monday will start the last week of the program. Please come and log in your minutes this week, if you want to get in on the raffles. On Saturday, at 1:00 pm we will have our Make Your Own Sundae ending party. We will be pulling all of the raffles during the party. Our very own Mayor Brian Scott will be pulling the raffle tickets. All reading logs must be verified before 12 pm on Saturday to get in on the raffles. The best is to get your reading log verified during the week, or by close on Friday.
During the week we have a Story Hour on Thursday at 10 am, and a movie matinee on Friday at 3 pm. We will be showing The Last Starfighter, rated PG. Friday night at 6 pm we will be making Reto Lava Jars. Please call and register for the Lava Jar event. So come to your library for fun and to see all you can do.
Last Week of the Summer Learning Program "A Universe of Stories!"