The Benedek Memorial Library will be closed on Monday, September 6, due to Federal Holiday. Please have a safe holiday.
Welcome to the Benedek Memorial Library!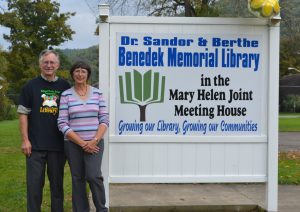 Welcome to the Savona Free Library website. If you are coming to our website you are looking for information on the library. You can find our hours, events, what is new to our collection, access your account, order items to pick up at the library and many other things about the library. But when you think about a library what is the first thing that comes to mind? If you are like many other Americans it would be physical books. While we do have a collection of books there is so much more to libraries these days than just physical books. We have computers and public WI-FI hot spots available for public use. We also lend out audio books on CD, music CDs, movies and television shows on DVD. Coming soon, there will be Kindle Fire tablets to borrow. All of these items are available at the library, but right now you are in cyber space. Guess what, you can still borrow from the library. Just put your pointer on "E-Library" and click to find out. Remember the library is much more than just a place to find books. We offer many other items for borrowing and many different services to the public, through your Savona Free Library card or any library card in the Southern Tier Library System. Also you can access the library not only during the days the library is open, but even when the library is physically closed. Need a book to help you to fall asleep at 2:00 am? Down load a digital book and start reading. Need to get authoritative information for a research project due real soon, check out our databases for articles from many different sources. Look around, try something new, the Savona Free Library is available for your entertainment and informational needs.
Benedek Memorial Library Dogs:  Austin, Ruby and Slim