Benedek Memorial Library will be closed on Monday, May 31st in observance of Memorial Day
The Friends of the Benedek Memorial Library will be holding a Chicken BBQ Fundraiser on Memorial Day at the Library (MHJ House) after the parade at 11:30 AM – until gone. $10.00 per dinner.
Benedek Memorial Library's Crafting Video's are coming back!
The Benedek Memorial Library is once again starting to do virtual programming. This month we are doing flower gardens for young people. Our video talks about using recycling items, such as tin cans, egg cartons, milk and juice containers for planting the flower garden in. For a limited time or until supplies last, which ever comes first, the Library has "take and make" packs for young people. The packs have soil, seeds and instructions for planting. We have some recycling items available for young and old to pick from to plant their flower garden in. Please stop in during open hours for your young person(s) to pick up their flower garden packet.
Please see below for items needed from the video, to start your own flower garden.
Children's Flower Garden
Items needed:
Containers from recycling
(Clean tin cans, milk or juice cartons, or egg cartons)
Art supplies to decorate containers.
(Water soluble paint, construction paper, stickers, markers, glue, and anything that is no-toxic you want to use.)
Potting soil
Seeds
Water
Please keep watch for more videos soon.
The Pilcrow Foundation New Book Donation is available to borrow!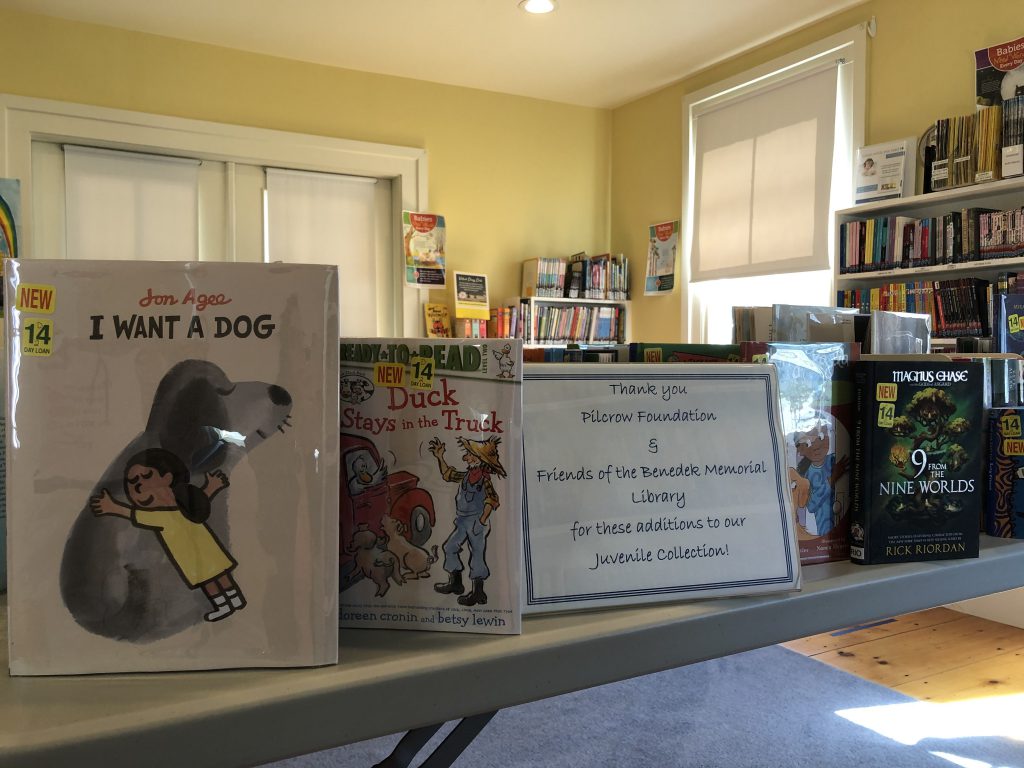 The Benedek Memorial Library were the proud recipients of a grant of Children's books from The Pilcrow Foundation, The Pilcrow Foundation "provides new, quality, hardcover children's books to rural public libraries across the United States." With the grant and a donation from the Friends of the Dr. Sandor and Berthe Benedek Memorial Library (FBML), the Library has received 64 new books for children and young adults. The donation from FBLM came from the fundraiser FLX Gives. Thank you for the support. There is a mix of fiction and non-fictions, board books, picture books, easy reader books, and chapter books for all ages to enjoy. The non-fiction books were special donations through The Pilcrow Foundation from Shout Mouse Press and a donation from Mr. Hal Berenson and Mrs. Laura Ackerman of Colorado. Thank you to all supporters of The Pilcrow Foundation and the FBML. The books are on display in our Travis J. Shawn Early Literacy Center. Please due to space and Covid-19 restrictions no more than three people at a time in the room. Come on down and check out these new books!
Help with Library Advocacy Today!
Governor Cuomo's 2021/2022 Budget is cutting Library Aid and Library Construction Aid to all libraries in NY State. What does the cut mean to us, we will have to pay higher costs to our Library System for our online catalog, borrowing books from other libraries, our digital catalog, and many other services we offer to all our patrons. What can you do? Please send a digital postcard to show our representative how much you love all of the local libraries. Use this link: https://docs.google.com/forms/d/e/1FAIpQLSdyTv2sfQHptoM1EZoBewQAKueJi4x0M2kaBtE08a5SzFBKtg/viewform. We need to show our representative that libraries matter to everyone.
New Crafting with the Benedek Memorial Library!
Holiday Craft Part 2 with Mrs. Rose!
2019 Annual Report to the Community
The 2019 Annual Report to the Community is now available for all to view. If you would like to see what happened at the Benedek Memorial Library please click here.
Welcome to the Benedek Memorial Library!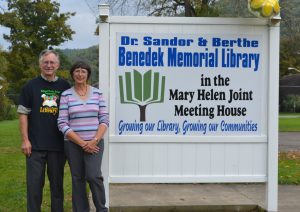 Welcome to the Savona Free Library website. If you are coming to our website you are looking for information on the library. You can find our hours, events, what is new to our collection, access your account, order items to pick up at the library and many other things about the library. But when you think about a library what is the first thing that comes to mind? If you are like many other Americans it would be physical books. While we do have a collection of books there is so much more to libraries these days than just physical books. We have computers and public WI-FI hot spots available for public use. We also lend out audio books on CD, music CDs, movies and television shows on DVD. Coming soon, there will be Kindle Fire tablets to borrow. All of these items are available at the library, but right now you are in cyber space. Guess what, you can still borrow from the library. Just put your pointer on "E-Library" and click to find out. Remember the library is much more than just a place to find books. We offer many other items for borrowing and many different services to the public, through your Savona Free Library card or any library card in the Southern Tier Library System. Also you can access the library not only during the days the library is open, but even when the library is physically closed. Need a book to help you to fall asleep at 2:00 am? Down load a digital book and start reading. Need to get authoritative information for a research project due real soon, check out our databases for articles from many different sources. Look around, try something new, the Savona Free Library is available for your entertainment and informational needs.
Benedek Memorial Library Dogs: Austin, Ruby and Slim