Summer is here! Time to take a reading voyage with the Oceans of Possibilities Summer Read Plus 2022! Sign up for the Reading Voyage Challenge starting July 2. The challenge will last for six weeks ending August 13. During your voyage you can explore any books, audio books, and magazines in print or digital. You can explore for free at the Benedek Memorial Library. Reading and joining any or all of the events planned during the challenge can earn you tickets for the many raffles available at the library. The possibilities for enjoyment and learning this summer are endless. The challenge is not endless, so sign up as soon as you can and start reading.
Senior Coffee Hour
July 13 at 10 am the Benedek Memorial Library will open early for the first Senior Coffee Hour. We welcome all ages to come and enjoy beverages and doughnuts. Meet friends old and new, enjoy cards, look at books, and Candy the director will be there to help with any tech questions you may have. We will have Senior Coffee Hour every two weeks during July and August. See our events calendar for dates. Enjoy a quiet morning with friends and books at the Library.
Looking for a few Young Adults (14+) interested in Drones!
A new Drone Club is starting at the Benedek Memorial Library on July 16, at 1:00 pm. The Benedek Memorial Library is starting a drone club for ages 14+. Want to try your hand at flying a drone, learn more about the laws governing drones, and maybe design a course to see who can get a drone through successfully. We have two drones for young adults to share flying time and to learn on. The first meeting will be a get to know each other and the drones. Due to limited seating registration is required. You can register by email savona@stls.org, phone (607)583-4426, or just stop in at the Library. This project is supported by outreach funds awarded by the Southern Tier Library System's Coordinated Outreach Services Advisory Council.
Special Note: 5/21/22 – Rapid Covid Tests and KN-95 Masks are available!
The Benedek Memorial Library has Covid-19 Antigen Rapid Test kits from the Steuben County Health Department. Remember test kits do have expiration dates. Please check your current tests. We still have KN-95 masks available. Pick up some extra masks to keep on hand. The supply is limited. Each household can get up to 3 tests and 10 masks. At this time we do not know if more shipments will be coming. The items are available only during library operating hours. Thank you.
If you are looking to get at home Covid Test kits you can order at: https://www.covidtests.gov/ to get 4 test kits per household from the federal government.
We are Fine Free!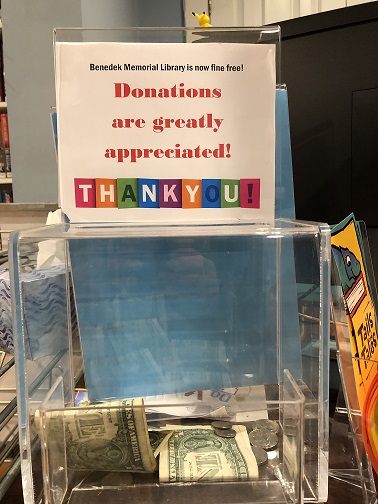 The Benedek Memorial Library has gone fine free! Do you hate when you thought you brought an item back to the library, and you find it is still in your home? You know it is late, but you are afraid of the late fines that may have incurred. Relax; all of us have made mistakes. Bring the item back and do not worry about late fines. We no longer have late fines. If you feel that you should make amends for keeping the items too long, you can make a donation (small or large) to the library. Any donations made helps us to be able to add programming and new items to our collection. Enjoy our collection; take items out without worry of late fines. Just do not keep the items too long. After an item goes four weeks beyond the due date, your account will be billed for the item. If you get billed, your account will be blocked from use by all the libraries in the Southern Tier Library System. To get unblocked bring the items back to the library or you can arrange to take care of the funds due. If you pay the bills, the library will be able to replace the items. Don't stress out, come to the Benedek Memorial Library and enjoy the collections.
Welcome to the Benedek Memorial Library!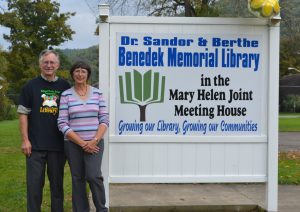 Welcome to the Savona Free Library website. If you are coming to our website you are looking for information on the library. You can find our hours, events, what is new to our collection, access your account, order items to pick up at the library and many other things about the library. But when you think about a library what is the first thing that comes to mind? If you are like many other Americans it would be physical books. While we do have a collection of books there is so much more to libraries these days than just physical books. We have computers and public WI-FI hot spots available for public use. We also lend out audio books on CD, music CDs, movies and television shows on DVD. Coming soon, there will be Kindle Fire tablets to borrow. All of these items are available at the library, but right now you are in cyber space. Guess what, you can still borrow from the library. Just put your pointer on "E-Library" and click to find out. Remember the library is much more than just a place to find books. We offer many other items for borrowing and many different services to the public, through your Savona Free Library card or any library card in the Southern Tier Library System. Also you can access the library not only during the days the library is open, but even when the library is physically closed. Need a book to help you to fall asleep at 2:00 am? Down load a digital book and start reading. Need to get authoritative information for a research project due real soon, check out our databases for articles from many different sources. Look around, try something new, the Savona Free Library is available for your entertainment and informational needs.
Benedek Memorial Library Dogs: Austin, Ruby and Slim