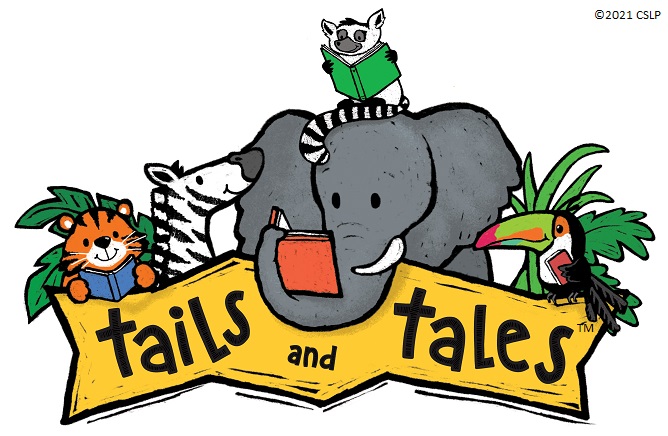 Summer Reading Plus 2021: Tails and Tales starts June 28, 2021 and ends August 7, 2021, but you can sign up ahead of time starting June 26, 2021.
The Summer Reading Plus 2021 includes:
A Reading Challenge for all ages (birth through senior citizens)!
Ask yourself: "Can I read 20 hours (1200 minutes) over 6 weeks?" If you can, you will earn chances to win raffles, books and younger participants can earn brag tags.
Events for all ages, please check out our upcoming events page.
Weekly crafting packets available for our younger patrons (parent or guarding can stop at the library to pick up a packet).
Story Walks on the library grounds, open all day. Story walks are pathways with signs having a page of a book on each sign. Enjoy theP story together, while walking the path.
Please, have all reading times logged into the library by 7:00 pm August 6, 2021. Come to our ending Make Your Own Sundae party on August 7, 2021 at 1:00 pm for awards and final raffle prizes drawing.
How to Register:
Register for the Summer Reading Plus 2021 program "Tails and Tales" at our signup party June 26, 2021, starting at 12:30 pm, with a hot dog picnic then at 1:30 pm Tanglewood Nature Center will bring some animals for all to see. You can also sign up online or download and print out an application (please bring the application to the library) or stop in to register during open library hours.
To register, and log reading on line please click here.
There is an app for smart phones or tablets (find it on Google Play or the App Store) which can be used for the reading challenge.
The Summer Reading Plus 2021: Tails and Tales program is funded in part by the Jeanette Foster Fund from the Village of Savona, Tyrtle Beach Youth Fund of Steuben County and many other generous donations from local businesses and private funders. Thank you to all who support our Summer Reading Plus program and our many other programs throughout the year!